Economic Roles
Jerusalem Theatre - 10 NIS
Jerusalem Theatre - 10 NIS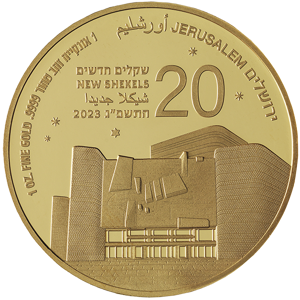 Diameter

32 mm

Weight

31.1035 grams

Rim

Smooth

Alloy

0.9999 Fine Gold

Designer

Reverse - Mr. Meir Eshel; Obverse - Mr. Zvika Roitman

Issue date

5783-2023

Reverse

The Jerusalem Theatre facade, showing the artistic stone and concrete elements of the building. Above is the face value in Hebrew, English and Arabic and mint year and the Star of David mintmark. The left border is inscribed with the gold fineness and weight, and the upper right border, with the word "Jerusalem" in Hebrew, English and Arabic.

Obverse

The obverse side is constant in the series, a roaring Lion, found originally on an ancient Israelite seal excavated in Megiddo (Armageddon). Above the lion is the Israel State Emblem and below it "Israel" in English, Hebrew and Arabic.